Taking in a morning meal at the Restaurant Sinclair makes a good night's sleep at L'Hotel St Sulpice all the more restful.
Essentially there are two types of breakfast services to choose from at the Sinclair Restaurant.
LE PETITS DEJEUNERS
All plates come with your choice of coffee, juice, or tea.
Continental: regular travelers will know what to expect from the continental breakfast, but at the Restaurant Sinclair, you can rest assured the selection is of the utmost quality.  Choose from a Danish and muffin basket, sliced fruits, Quebec cheese, yogurt, or cereal.
Le Canadian: the proverbial "local" breakfast consists of 2 eggs—served any style—bacon, ham, smoked sausages, roasted potatoes, and toast.
Le Sante: for something light and fresh, this option offers you with a selection of fresh, sliced fruit, cottage cheese, and poached eggs
SPECIALITES PETIT DEJEUNER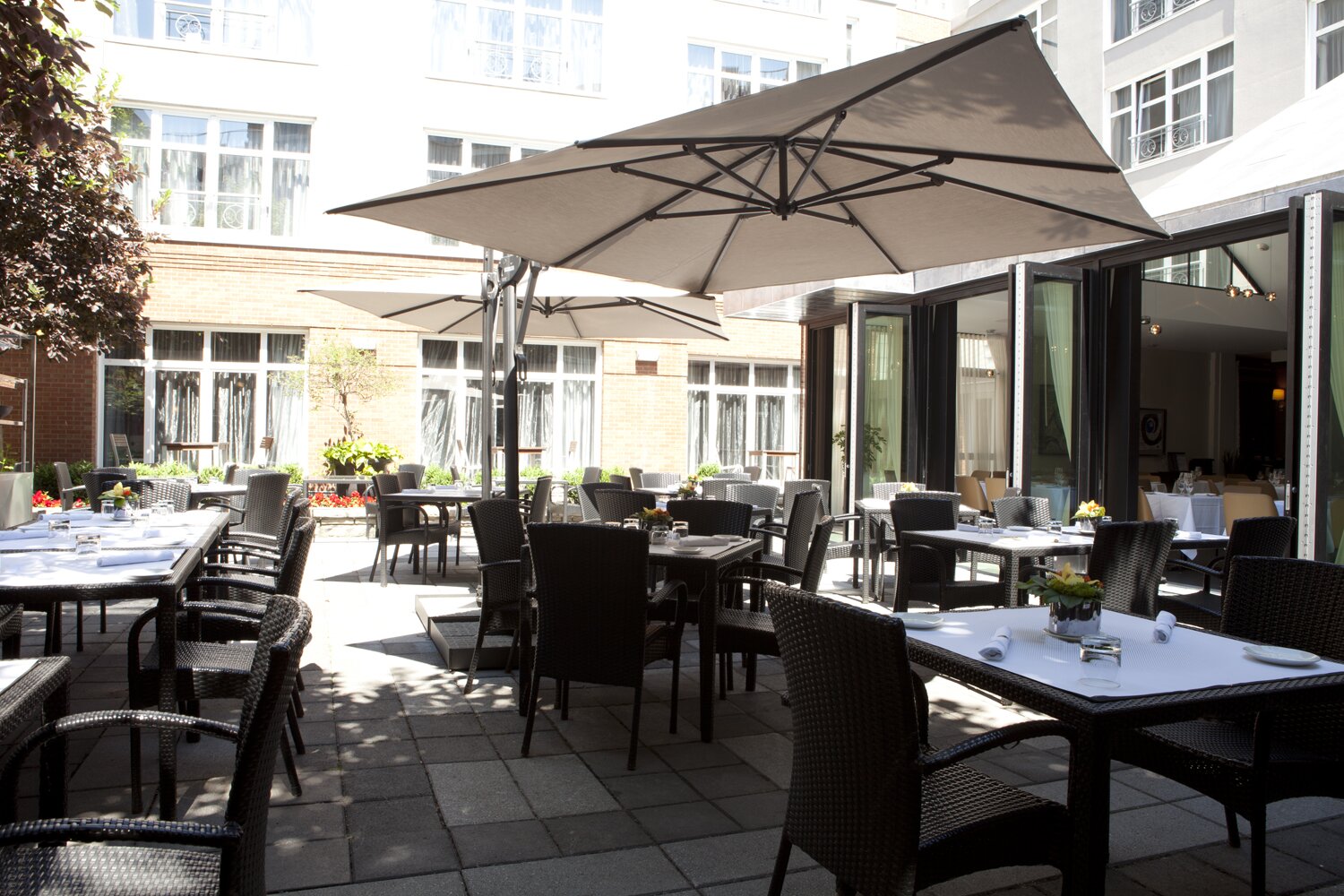 At an establishment like Restaurant Sinclair, you can expect more than just the typical fare; and in this case you will not be disappointed. The morning assortment continues with the following breakfast specials:
Toscan-style tartines featuring 2 eggs served Sunny Side Up, with a tomato, onion, and bell pepper salsa along with prosciutto chips
Toscan-style tartines featuring 2 eggs served Sunny Side Up, with a tomato jam, prosciutto chips, and shredded basil leaves
Brioche French bread served with a maple and Chantilly cream and homemade maple caramel
Brioche French bread served with a maple and Chantilly cream and crème Anglaise
Smoked salmon and bagel chips served Napoleon style with sour cream, dill, and Spanish capers
Daily selection of fresh fruits, plain yogurt, and granola served with local, organic honey
EXTRA OPTIONS
Of course, no matter how diverse and delectable any menu can be, it is not always possible to include every type of thing you might want for your morning repast.  Fortunately, you can likely find those extras here:
toasted French baguette with butter and jam
Seasonal fruit salad
choose from a variety of cold cereals
oatmeal cup served with hot milk
toasted Montreal bagel, served with cream cheese
plain yogurt or cottage cheese trifle
European danish basket
BEVERAGES
And no meal is complete without a beverage to wash it all down. For Sinclair Restaurant breakfast you can choose from:
coffee, tea, or herbal tea
apple, cranberry, grapefruit, or orange juice
cappuccino, latte, mocha, or macchiato
espresso or double espresso